Florida Falun Dafa Association, Inc.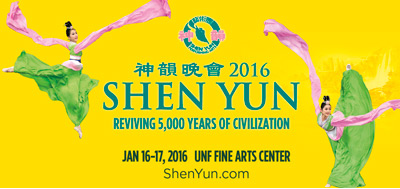 Booth: S4-10
8681 Ethans Glen Terr.
It's traditional Chinese culture as it was meant to be—a brilliant blend of beauty, energy, and grace. Dozens of dancers in dazzling costumes move in seamless, flowing patterns. Thunderous drums shake the stage, while spectacular backdrops take you to another world. Shen Yun Performing Arts presents the true culture of China's five thousand year-old civilization with original performances that not only entertain, but more deeply educate, enrich, and inspire. "Absolutely the No. 1 show in the world. No other company of any style can match this!" — Ken Wells, legendary lead dancer of the English National Ballet UNF Fine Arts Center, Lazzara Hall.