Welcome to the Jungle
Sep 25, 2019, 13:13 PM
Earth Works, a local family owned comprehensive landscape company and longtime partner of the Jacksonville Home + Patio, recently took their talents to help some furry, four-legged North Florida residents enjoy their home even more. Earth Works designed, built and donated a tropical water feature and pool for Catty Shack, a nonprofit wildlife sanctuary.
To help Catty Shack even more, Earth Works is partnering with the refuge for Siberian tigers, lions and other animals by creating a Welcome To The Jungle feature in their space. Guests can also enter to win Guns N Roses concert tickets, Jaguars tickets and family passes to Catty Shack online at Planet Radio as part of Welcome To The Jungle event online at https://1073planetradio.iheart.com/.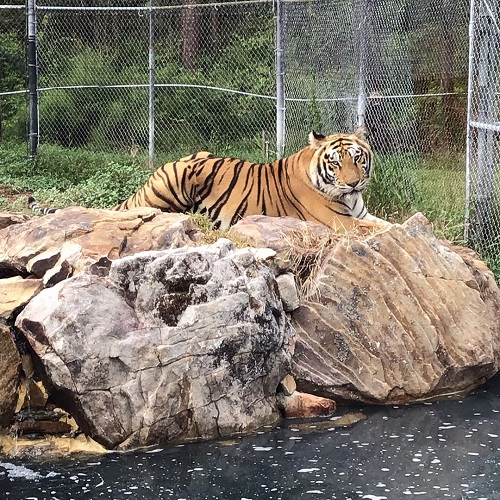 Here's a snapshot look at the project, which guests can see when they take a tour of the sanctuary:
Earth Works of Jacksonville designed, built and donated the water feature for the nonprofit wildlife sanctuary at 1860 Starratt Road on the city's Northside. The pool was done by Pinnacle Pool Plastering Inc. of Jacksonville.
Jason Duffney, co-owner of Earth Works, said while they do hundreds of water features the tiger pool the Catty Shack project was their most challenging to date. Jason and his team was inspired to help Catty Shack after hearing about what they do and reached out to see if they wanted a water feature on top of the kitty pool.
The waterfall in the water feature is about 2-1/2 feet tall and 36 inches wide. They used about 12 tons of rock — Tennessee field stone, which makes nice waterfalls and won't affect the pH-level of the water so it would remain clean and safe.
To learn more about Earth Works and Catty Shack Ranch, please visit the Earth Works feature display located at Booth 541 at the show.